Pablo Casaseca, PhD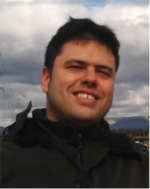 ---
Associate Professor (Profesor Titular de Universidad) with the ETSI Telecomunicación,
Universidad de Valladolid
Research Affiliate, LPI (Valladolid, SPAIN)
---
Visiting Senior Lecturer in Signal & Image Processing with the School of Engineering and Computing,
University of the West of Scotland (UWS)
Research Affiliate, AVCN (Paisley, UK)
---
ETSI de Telecomunicación. Universidad de Valladolid
Universidad de Valladolid
Campus Miguel Delibes. Paseo Belén 15. 47011. Valladolid (SPAIN)
Tel: (+34) 983 185591
E-mails: casaseca@lpi.tel.uva.es, pablo.casaseca@uws.ac.uk.
---
Short Bio:
Pablo Casaseca's research interests are signal & image processing and analysis, statistical signal and image modelling, pattern recognition, and computer vision, with applications to different fields, especially telecommunications and biomedical engineering. He has published 68 peer-reviewed scientific papers and book chapters with an overall number of citations above 30: 20 journals indexed in SCI Journal Citation Reports, 25 international conferences, 14 national (Spanish) conferences, 5 invited talks and 4 book chapters. Additionally, he has participated in 33 research projects and contracts at European, national and regional level, with a cumulative budget over 3.7 M€ (principal investigator in 7 of them). He has led 4 multidisciplinary research projects in the UK involving partners from Academia, Industry, and the Public Sector, with an overall value of 232k€. He is also a reviewer for several scientific journals such as IEEE Sensors and Magnetic Resonance Imaging and has participated as a committee member in a number of international conferences in his research field.